Pencil+,a Windows compatible 3ds Max non photo realistic (NPR) shader plug-in, has been upgraded with flexibility to control light and shadow for materials, and adaptability to modify more detailed settings for lines. Pencil+ 2 free demo download is available to try out, and other resources are introduced on the PSOFT website. Upgrade discount offer is offered for current Pencil+ users in a limited time.
Sendai, Miyagi (December 6, 2006) -P SOFTHOUSE, software developers, today are pleased to announce that Pencil+ (R) version 2.0 will be released on December 6th. Pencil+ 2 creates fascinating hand painted-like renderings with vivid colored wax pencil strokes such as flat cell paintings and pen drawings. The plug-in has composed of two plug-ins, Pencil+ 2 Material and Pencil+ 2 Line, which control strokes and outlines relatively. Pencil+ 2 Material, directly operated by the 3ds Max material editor, helps to create soft and energetic textures, so that your desired next-generation three dimensional graphics are achievable. Pencil+ Line renders object outlines at high speed, so that it is worth for busy animation creating works.
" Pencil+ 2 contains unique elements, which is come from Japanese origin, to produce cartoons."comments HATAKEYAMA Keiki, a chief executive officer at P SOFTHOUSE, on characteristics of the plug-in. "When it comes to NPR rendering, it may remind you of Japanese manga which is now popular all over the world. Characters you often seen in Japanese manga have been created in original techniques with three dimensional expression. These techniques, born in Japan, are fully adapted to Pencil+ 2. We product developers of course know them very well. " HATAKEYAMA also mentions from another aspect."This major upgrade brings availability for real hand painted-like texture mapping and high speed complex line rendering. It means that the plug-in productively performs well. In architectural design drawing, for example, object line settings are interactively previewed and speedily rendered, so that you can obtain final production in a fastest way to meet the due date which your clients may give."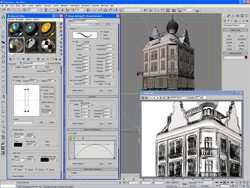 Pencil+ 2 has been upgraded with more new features. Latest main features are as follows. First, light and shadow controlling for materials has flexibility to be placed on wherever designers command. Related parameters such as highlight design, gradation offset, light colors, shadow blend and strokes are modified by zones, so that visual scenes can be arranged with fine nuance of light and colors. Next, rendering object outlines take less time, compared to the last version, with fine results. Even when complicated line settings are applied, rendering speed does not loose its quickness. Third, new interface operation is simple. Parameter modification is easily handled with graphical editor and flags, so that designers feel no stress to treat it
P SOFTHOSE provides useful reference and services on their website. The website puts on sample images and movies created by Pencil+ 2 to show website visitors examples and models. To try out Pencil+ 2 on your 3ds Max, max sample files and the Pencil+ 2 free demo version are available for download. To learn how to use the plug-in, tutorials will be ready in a few days after the date of product release. To upgrade your current Pencil+ 1.x, discounted upgrading price is offered in a limited time since sale of the latest version. Pencil+ 1.x is not available for purchase since the latest version is on sale.
For product information visit:
https://www.psoft.co.jp/en/product/pencil/
For product purchasing visit:
https://www.psoft.co.jp/en/order/
Software list price 45,100 Yen (tax included)
Upgrade price 21,000 Yen (tax included)
Fixed-term discount upgrade price for current Pencil+ 1.x users 10,500 Yen (tax included)

For further information contact:
P SOFTHOUSE Co., Ltd.
PSOFT Product Information Desk
Email: info@psoft.co.jp

About P SOFTHOUSE Co., Ltd. P SOFTHOUSE has been working on software development and digital content creation since 1990. The company has been produced their original products such as a digital synth, audio applications, plug-ins for 3ds Max. To learn more visit our website, www.psoft.co.jp/en/ .