Sendai, Japan - April 27, 2017 - P SOFTHOUSE Co., Ltd. (location: Sendai city, Miyagi prefecture, Japan; CEO: Keiki HATAKEYAMA) released, on April 27, "PSOFT Pencil+ 4 for 3ds Max", a non-photorealistic rendering plugin for 3ds Max which produces strokes similar to those seen in pencil sketches.
The development of Pencil+ 4 was based on feedback from various production sites, especially television animation and film production companies, and emphasis was put on providing ways to optimize work and improve productivity. This latest version of Pencil+ introduces massive speed increases, Nitrous viewport display, material penetration, new edge detection settings and more, further improving workflows and opening up new kinds of expressions.
About Pencil+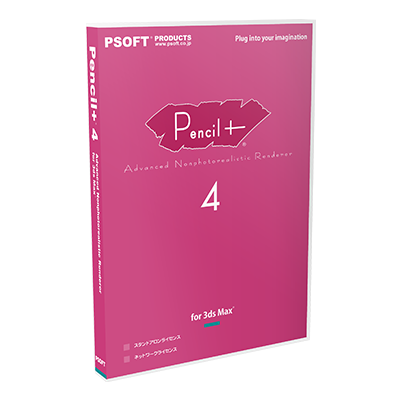 PSOFT Pencil+ 4 for 3ds Max is a non-photorealistic rendering plugin which can reproduce the appearance of pen-and-ink and color pencils drawings as well as animation cels. It makes it possible to reproduce in 3D the distinctive art style seen in Japanese animation and illustrations.
Main Features
Materials with high level of expressiveness
Fast and beautiful line drawing
Unique modifiers
Powerful render elements output
Functionality
Material
Cel shading
Stroke maps for hatching
Highlight design
Configurable light color influence
Shadow blend
Configurable light intensity influence

New

Material penetration

New

Nitrous viewport display

New

Line reflection / refraction
Configurable line drawing detection
Line color substitution
Line
Visible line drawing
Hidden line drawing
Advanced line settings
Detailed brush settings
Line animation
Distance-based reduction

Update

Line size map
New edge detection settings

Outline
Open edge

New

Object
Intersection
Smoothing boundary
Material ID boundary
Selected edge

New

Normal angle
Wireframe

Update

Support for external reference objects and scenes

New
Modifiers
Perspective deformation modifier
Normal copy modifier
Edge selection modifier

New
File Output
Zone render elements output
Line render elements output
Line output to EPS format
Host Application
Autodesk 3ds Max 2015 / 2016 / 2017 / 2018
* Operates with the scanline renderer.

Hardware
Requirements identical to those of the host 3ds Max version.
Product Prices
| Standalone License | (Tax included) |
| --- | --- |
| Download version | 60,480 Yen |
Purchasing
Sold on the PSOFT Store.
https://www.psoft.co.jp/en/store/
Demo Version Download
https://www.psoft.co.jp/en/download/pencil/
Related Links
Related Documents
"PSOFT Pencil+ 4 for 3ds Max" Product Summary
https://www.psoft.co.jp/en/product/pencil/3dsmax/
Accessed from the Product Summary page above.
Inquiries
P SOFTHOUSE Co., Ltd. https://www.psoft.co.jp/en/
For products-related inquiries, please use the form below.
Contact page: https://www.psoft.co.jp/en/contact/