PSOFT Pencil+ 4 for 3ds Max, our non-photorealistic rendering plugin for 3ds Max which produces pencil sketch-like strokes has been released. Please try the faster, more powerful, new "Pencil+ 4".
About Pencil+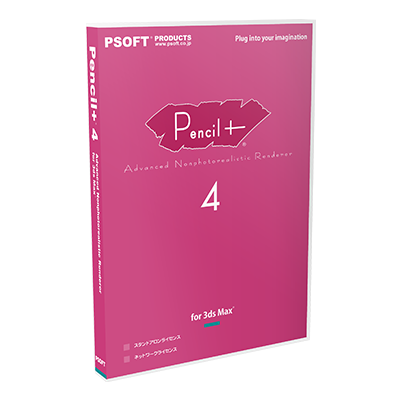 PSOFT Pencil+ 4 for 3ds Max is a non-photorealistic rendering plugin which can reproduce the appearance of pen-and-ink and color pencils drawings as well as animation cels.
Main Features
Materials with high level of expressiveness
Fast and beautiful line drawing
Unique modifiers
Powerful render elements output
Functionality
Material
Cel shading
Stroke maps for hatching
Highlight design
Configurable light color influence
Shadow blend
Configurable light intensity influence

New

Material penetration

New

Nitrous viewport display

New

Line reflection / refraction
Configurable line drawing detection
Line color substitution
Line
Visible line drawing
Hidden line drawing
Advanced line settings
Detailed brush settings
Line animation
Distance-based reduction

Update

Line size map
New edge detection settings

Outline
Open edge

New

Object
Intersection
Smoothing boundary
Material ID boundary
Selected edge

New

Normal angle
Wireframe

Update




Support for external reference objects and scenes

New
Modifiers
Perspective deformation modifier
Normal copy modifier
Edge selection modifier

New
File Output
Zone render elements output
Line render elements output
Line output to EPS format
Product Prices
| Standalone License | (Tax included) |
| --- | --- |
| Download version | 60,480 Yen |
Please order from the PSOFT Store.
Upgrade
Please look here for details about upgrading.
Free Upgrade
Please look here for details about free upgrades.
Demo Version Download
https://www.psoft.co.jp/en/download/pencil/
Product Details