About Unauthorized Products
After buying the product, it is necessary to authorize it online. An unauthorized product will display the warning message "Unregistered (or key broken). Please complete registration of your product." and will not be usable.
*The restrictions of the demo version are different.
Installation and Product Authorization
Follow the steps below to complete authorization.
*Please refer to the email from our company with the subject "[PSOFT-ORDER] Thank you for your purchase", sent to you when you purchased your product, for your log-in ID and password (required to enter the User Page).
1.Uninstall the demo version.
1. Uninstall the demo version through the start menu.
[Start Menu] → [All Programs] → [ PSOFT ] → [VOID] → [Uninstall]
2.Download your purchase.
Log-in to the PSOFT user page with your log-in ID and password to download your purchase.
PSOFT User Page: https://www.psoft.co.jp/user/en/
[User Page log-in] → [User/Top] → [Download]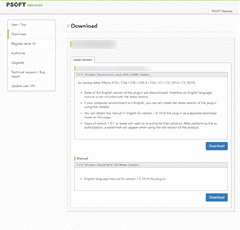 *The download page
3.Install the product.
Run the set-up file downloaded in the previous step.
Install your software according to the instructions of the Install Wizard.
*When updating a version older than version 1.5, please uninstall the old version before installing the new one.
4.Get your machine code.
Start VOID Modular System.
A warning message will be displayed.
Press the [OK] button to proceed to the product authorization tool.
The [Product registration.] dialog will open.
(表示される情報) (Displayed information)
User name [Your user name]
Product Serial ID [Blank]
Machine code [Your machine code]
License key [Blank] *Input your license key here after obtaining it.
The machine code displayed is necessary to authorize your product.
5.Obtain and enter your license key.
Log-in to the PSOFT user page and select [Authorize] from the index.
PSOFT User Page: https://www.psoft.co.jp/user/en/
Click the [Authorize] button of the matching product.
Enter your machine code in the [Machine code] field. (You can simply copy and paste it).
Click the [Issue License key] button to obtain your license key.
(The key is sent to your registered email address as well).
Enter the product serial ID and license key in the appropriate fields of the [Product registration.] dialog box.
(You can copy and paste the values directly from the PSOFT User Page).
Click the [Register] button.